Sample Confirmation Letter for Appointment with the CEO, President, Manager, Boss, Business Meeting Appointment or appointment with school principals, college principals, NGOs, Non Profit organizations etc.
Letter to Fix Appointment Time
Respected Sir/ Madam
Greetings from OBTC
My name is Anila Azmat and I am working as a "Community Service Coordinator" in OBTC College for women. I am writing you to show my keen interest in your organization, which is already working for the betterment of the community.
Community service has been made mandatory for under graduate students in OBTC College, as we want our students to learn about assisting in providing services to poor, disadvantaged, and other individual or groups unable to secure assistance to address critical problems. In this regard students are required to spend 100 hours in community service.
During summer we would like our students to assist you in your community work. We are also open to any suggestions or any other area of work where you think our students will be able to assist you and your organization in any way.
I will appreciate if you can give me some time and we could meet in person and discuss this program in detail. You can fix an appointment, from Tuesday- Friday, 9 am – 2 pm. It is requested to please confirm me the appointment at least two days before so that I can make some official arrangements for my transportation.
Your cooperation in this regard will be highly appreciated.
Best Regards
Community Service Coordinator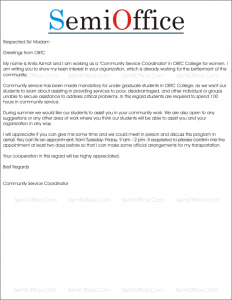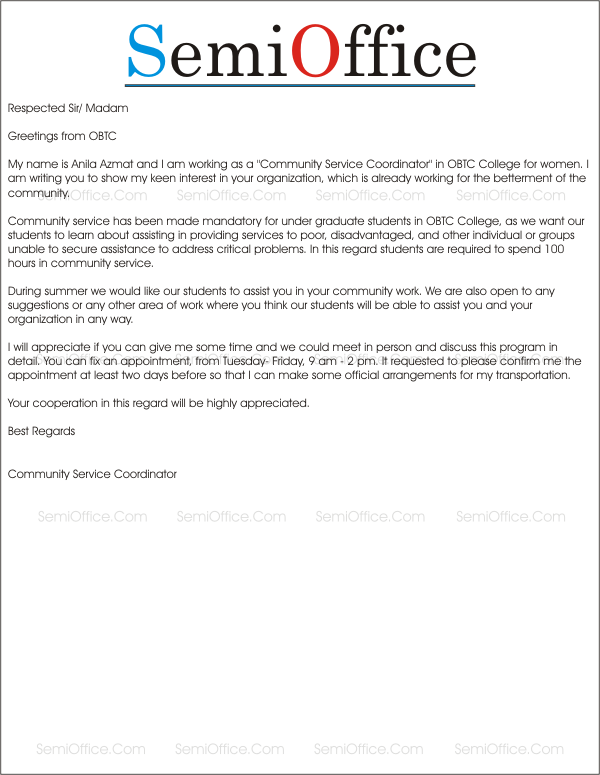 Appointment for meeting letter request to Managers, Doctors, Companies in email available for download.