Sample request letter for Advance Payment Format for issuing advance payments to companies, clients, vendors, suppliers, workshops for repair, maintenance and parts changing etc
Cover Letter for Advance Payment
Minahil Qasim
Director Finance
OBTC School
Faisal Town,
Lahore
Subject: Advance payment recovery request
Dear Sir.
It is to inform that we may be in loss as we are having heavy expenditure for the repair and maintenance of the machinery at our factory area. Some machinery need oil change and repair and that require huge amount. So I request you to issue the 50%advance payment as early as possible.
Regards,
Assistant Manager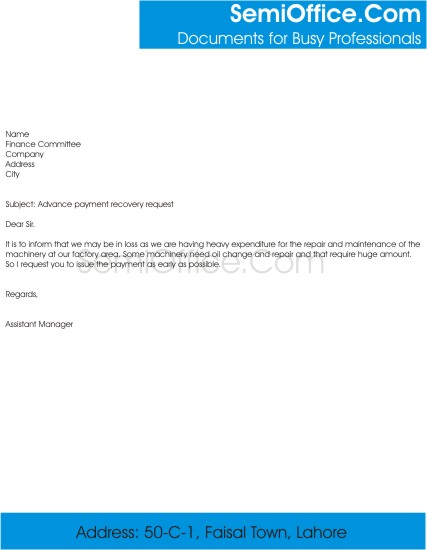 Application for Advance Payment
Date:___________
The Voice President
OBTC School
Subject: Request for the Advance Building Rent
Respected Sir,
As per our contract with the land lady of our hostel building we had to pay three months advance rent on 20th February 2017. Due to your small pilgrimage we remained unable to provide her the cheque of advance payment. I request you to please instruct the accounts department to prepare her cheque of $12000 for advance rent of three months (Jan to March 2017) as we are already late for the payment.
Thank You,
Signatory