Sample leave application to submit on Diwali festival to get leaves from office, overseas employment, overseas office etc.
Leave Application for Diwali to Manager
To,
The Manager,
H.R Department,
Panasonic Electronics,
China
Dear Sir,
It is to inform you that I belong to the Hinduism religion and I need vacations for Diwali which is going to start from 30th of October and will lasts on 3rd of November. As I belong to India and my whole family is situated there that's why I need vacations to join my family in india to celebrate my religious ritual.
I will be very thankful to you if you do this favor for me.
Thanks and regards,
Singhania Roy
Application for Diwali Leave in Email
Respected Sir,
I am Vikram Shankar from India working in your firm as Company Accountant in UAE. Our religious Diwali festival is approaching and will start from 30th October. I request you to grant me 10 days leave to celebrate Diwali with my family members and friends in India.
Looking for your kind approval.
Vikram Shankar
Leave Application for Diwali
To
Mr. Akash
Managing Director
Pepsi Co, India
Sir, I am Mr. Kumar and I am the employee at accounts department in your company. As you are aware that the prestigious event of Diwali is coming up and for that I request you to kindly grant me a leave for 4 days i.e 10th October to 14th October. Due to distance, I have not been able to meet my family much recently and I have been spending Diwali with my family since birth and I would like to continue this chain as much as I can. I shall be very thankful to you for this gratefulness.
Kumar
Employee, Accounts
Leave Application for Diwali Festival
To
Mr. Kevin Shephard
CEO
GAC Ltd.
Texas, USA
Sir, this is Mr. Robert Williams and I have been an employee at your firm for the last 2 years. I have completely devoted myself to the well-being of this company and have not looked back since then as the colleagues here make this place feel like home. I have not taken any such vacations since the beginning of my employment because of which I have had to listen to a lot of criticism from my family. As you know that the prestigious event of Diwali is around the corner. I was hoping to back to India to celebrate it with my family and friends. For that purpose, kindly grant me leave for 3 weeks i.e. 2nd December to 23rd December. I will be available on phone if any emergency ascends. Thank you for your kind gesture.
Yours sincerely,
Robert Williams
Employee, Administration Department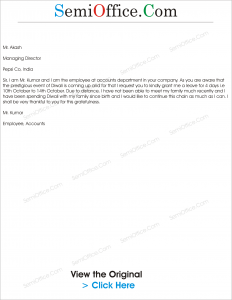 Leave Application for Diwali by a Servant
To,
The Branch Manager,
Levis Lahore ,
Dear Sir,
I beg to say that I am a sweeper in this branch and a   Hindu by religion. Our sacred event of Diwali is coming this week. Our community has made a plan to celebrate this function on a particular place with full of freedom. As it is not a Government holiday here in Pakistan. I request you to allow me two days leave of Friday and Saturday so that I could have a great fun with my friends and family.
I am waiting for your kind response.
Your servant,
Gopal varma.