Job Application Letter for Teacher Job in School for all classes/grades/levels of Science, Biology, Mathematics, Social Studies, English, Arts, literature, Accounts, Statistics and Special Education available below. Check More Teacher Job Application Formats
13 Teacher Job Cover Application Letter samples to learn how to write application letter for school teacher job.
Job Application for Teacher in School
The Principal,
Ecole Mondiale World School,
Mumbai.
The Honourable Director,
Respected Madam,I am an energetic, highly motivated, enthusiastic and MSc qualified, looking for a challenging designation for teaching sincerely, to contribute with best of my skills as well as learning to enhance my abilities, skills and potential in a learning environment. At present I am teaching in Allied School as Biology Teacher.
Kindly give me the opportunity to teach in your well reputed school. I shall be grateful to you.
Your's sincerely,
Quratulain
Application Letter for Teaching Job in School
The Honourable Director
Ghana International School
Second Circular Rd, Accra, Ghana
Dear Madam,
I would like to apply for a suitable position in your educational institution. I have done BS Hons in Environmental Sciences from School of Economics. I have heard about an available position for a teacher at your institute. I would like to put myself forward for this great opportunity. It will be a great honor for me to be part of your institute.
After my selection, I will put all my hard work and dedication to achieve the objectives and goals which are required by the Institute. I hope to hear a positive reply of my application from you.
Thank you.
Yours truly,
Bisma
Email for School Teacher Job Applying
Respected HR,
I want to apply as a resource member in your institution. I have previously taught at Scarsdale and Alma, Smart School and Defence Lyceum. Also, I have researched on child psychology with Dr. Aftab. I would like to be part of Sun Institute. Let me know if there are any vacancies.
Regards,
Yumna
Job Application as Teacher in School with experience
The New School
66 West 12th Street
New York,
Respected Sir,
I have come to know about job vacancy in your school. I have masters in botany as a gold medalist and I have teaching experience of two years and also good teaching methods too. I am very much determined towards my work and career in teaching.
Please give me a chance for teaching in your school, so I will show you my performance. I have attached my documents and CV with application. kindly have a look on my application and grant me a chance for interview to present myself.
Thankfully,
Liza
Application for School Teacher Job of Arts Teacher Without Experience
The Principal
The Shri Ram School,
Mumbai
Dear Principal,
I have done B.F.A (Painting) from University of the Punjab. I am writing this to show my interest to join your school as an Art Teacher. I assure you that I could be a valuable addition as a teacher in your prestigious school.
For further perusal, kindly find my attached Resume and Portfolio. I will be thankful for your response.
Regards,
Shuruty Sharma
Teaching Job Application With Experience
To,
The headmistress,
Queen Marry Girls High School
Respected sir,
With due respect it is stated that I am working in a notable institute as a junior teacher of class Nursery and k. g right now. Sir I wanted to apply as a teacher for your prestigious school. I have experience in this relevant field.
I have done my masters in Educations and currently starting M. Phil. I am a certificate holder for classroom and junior class management. I have 3 years of experience with good track record. Please consider my request. Thanks
Regards,
Amna Khan
Application Letter for Teacher Job for Fresher
The City High School
USA
Respected Dean of Students,
Hope you will find this letter in good of your health. Sir my name is Jon Smith and I am writing this letter to apply for the job of teacher. I read your ad regarding the requirement of an Assistant professor. I just graduated from a very reputable institute. My major area of study was computing and I have a very good hold on almost all the subjects relating to computing as well as I have a very good grip on mathematics.
I have a passion for teaching and I have also taught in various Summer School for kids. I have also taken teaching courses which also gives me a grip over other candidates as I better understand the psychology of the students. At this stage of my life I am looking for a profession to pursue and achieve something good out of it.
I hope that you will shortlist me and give me a chance to pursue my dreams. My official transcript and my resume is attached with the application. Hope to hear well from you.
Application number #12345
Jon Smith
Request for Joining School as Teacher for Freshers
The principal,
New York School for Interior Design
Subject: Application for the Vacancy of Teacher
Dear Madam,
I heard a lot about the reputation of your school with respect to your managerial abilities. One of my sisters is your student; she told me that you warmly welcome the new educators who want to be a part of your institute as a teacher.
I am one of those who want to be a part of your teaching team to achieve your educational goals of best education and enhance my pedagogical skills under your kind supervision. I am sure that I will apply my learning more effectively and produce the efficient results.
I have done B.Ed(Elementary) with the CGPA 3.39 and looking forward to you for kind response. I will be very thankful to you if you will give me chance of interview.
Thanks and Regards,
Ayesha
Email Job Application as Teacher with Teaching Experience
The Principal,
Global College, Southampton,
England.
Respected Principal,
With reference to your job advertisement in Daily Times. I would like to submit my CV for email subject cited post in your prestigious college. I am a Graduate in the field of business administration from a reputable University with a high distinction in studies.
I am a hardworking, intelligent and self-motivated individual with high confidence and leadership skills. I have a sum of 4 years of experience in the teaching field. The required experience mentioned on the advertisement was also 4 years. So it makes me very much eligible for the desired post in your college.
Please find attached herewith this email my up-to-date CV at your perusal and your further necessary action please. You will find my credentials in the CV perfect for the mentioned job. Kindly have a look at my CV for further information.
Looking forward for response from your side and an interview with your good self if shortlisted.
Yours Truly,
Kevin Pears
Email Application Letter for Secondary Teacher
Makoko Floating School
Nigeria
Respected Headmaster,
I am Hameed interested for teaching of biology and chemistry in your school on the vacant positions advertised in newspaper. I have completed MSc Biology and Chemistry from DU with five years of teaching experience in well-known and reputed institution of this area. My service certificates are attached for your review.
As a teacher I can perform excellent in teaching as well as good in handling the students in class. I wish to appear in the interview soon.
Thanking You,
Hameed
Sample Application Job Letter for a Teacher
HR Manager
London Grammar School
Dear Hiring Manager,
I Sumaira Ainee like to express my interest in teaching at London Grammar School. Please look over my enclosed resume. I would greatly appreciate an interview at your earliest convenience and look forward to meeting with you concerning a career of teaching to special children to discuss the positive contributions I could make.
Thank you for your time and consideration.
Sincerely,
Sumaira Ainee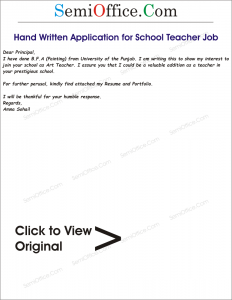 Hand Written Application for School Teacher Job
Job Application for Accounting Teacher of O/A levels
To
Mr. Daniel Murphy
Principal
Roots International
Liverpool, UK
Sir, I am writing this letter in respect to the job vacancy advertisement that you posted in the newspaper requiring a teacher for accounting. I wish to apply for the same. I have done Masters in Accounting and Finance and I have been working with a multinational organization for 2 years. Let it be teaching other colleagues or children of my own, I came to realize that teaching is my ultimate line of work.
Therefore, I wish to work at your institution. I have attached my CV with this cover letter. Thank you for your consideration. I wish to hear from you in the near future.
Yours respectfully,
Harrison Craig