Sample application for cancellation of admission in school, college or university for any reason like shifting house, going abroad, refund of fees etc.
Letter to Principal to Cancel the Admission
The Principal,
COMSATS,
Islamabad
Subject: Request to cancel admission
Dear Sir,
It is to humbly request you to kindly cancel my admission in your prestigious institute on the basis of sports as I have been selected on merit at University of Management, Lahore. I got enrolled in BS (Hons) Political Science, batch 2015-2019 on 30th June, 2015 at COMSATS Islamabad and had paid 10,000 Rupees as admission fees. Belonging from a humble background this amount makes a lot difference to me.
Therefore, I request you to cancel my admission and kindly refund me the admission fees so that I can bear the expenses of my education at Lahore.
Thanking you in advance.
Yours Sincerely,
Zaid Kiyani.
Cancellation of Admission Application Letter
Dear Sir,
I am Justin recently get admission in Master of Business Administration and submitted all the dues according to fee challan issued by the department. Unfortunately my father passes away just four days back and I am the elder one in my family. Now I have to fulfill all the responsibilities and needs of my familly in the absense of my father.
My family already depends on very limitted resources and my father was a doing a private job and provided me university fees by borrowing money from his friend. Now it is my responsibility to payoff the borrowed amount and I request you to please refund me all the dues I have deposited. I am enclosing copies of challan form and deposit slips as reference and provide you the original if needed. Looking for your kind approval for fees refund.
Thanking you,
Justin
Letter for Cancel of Admission in College
The Deputy Registrar,
Admission Office.
Kinnaird College for Women,
Lahore.
Subject: Request to cancel admission
Dear Sir,
With due respect, it is stated that I, Mahrukh Irfan, roll number F15MPSY007, a student of MPhil Clinical Psychology at Kinnaird College for Women has been offered admission at the Punjab University for MS Clinical Psychology program. I want to pursue my postgraduate studies from PU and therefore, request you to kindly cancel my admission at Kinnaird College for Women. All my dues for this semester are clear and there are no outstanding payments on my behalf. Kindly do the needful.
Thanking you in anticipation.
Yours Sincerely,
Mahrukh Irfan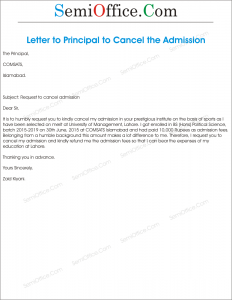 Cancellation Latter of Admission Due To Select near By School
To,
The principal, Oxford high school
Respected sir,
With due respect, I am writing this letter to inform you that my son, James Stuart had given test for class nursery and he has been selected by the school but we will not be able to send him to your school as we have transport issue there for we have selected a nearby school to our house for our son. I wanted my son to be a part of your prestigious institute but unfortunately due to this issue we are unable to send him. I hope you understand the matter and cancel his registration. Thanks
Yours sincerely,
Joseph Andrew